World News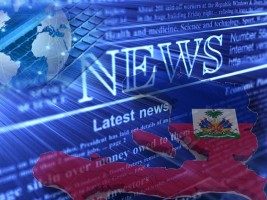 Zapping News
Earthquake off Jean Rabel
Wednesday morning 5:50 am, an earthquake of magnitude 3.4 on the Richter scale was recorded, at sea off Jean Rabel. No damage reported by the municipal committees of the Directorate of Civil Protection.
Failure to kidnap a little girl
In Petit-Goâve, 3 individuals accused of involvement in an attempt to kidnap of an 8-year-old girl were arrested earlier this week by the police. The child is the daughter of Emmanuel Julien, candidate for this district under the banner "Pitit Dessalin".
40 midwives trained to Covid-19
The Association of Nurses Midwives of Haiti funded by the Embassy of Canada, trained 40 midwives and 9 coordinators of departmental committees on preventive measures of Covid-19 to protect the lives of pregnant women and newborn.
Stolen goods, fleeing driver
Tuesday, April 28, 2020, during a routine check on a vehicle in the city of Jacmel. Batteries of inverters belonging to Digicel were found inside the vehicle, a 38 caliber revolver and ammunition were seized by the police, however, the driver managed to flee by abandoning the truck on the road.
Covid-19 Centers are not a threat
"The Covid-19 treatment centers do not pose a threat to populations, these structures are on the contrary called to save lives" insisted Dr William Pape, member of the scientific cell https://www.haitilibre.com/en/news-30384-haiti-politic-creation-of-a-scientific-cell-to-manage-the-covid-19-crisis.html adding also "The population must avoid taking risks when faced with a semblance of resumption of life…"
Arrest of gang accomplices on a boat
Tuesday, Haitian coast guard police intercepted a fishing boat trying to discreetly leave the Village de Dieu and arrested several individuals who were on board, they are accused of complicity with a gang from the Village…
HL/ HaitiLibre